Building a Leadership Position in a Digital World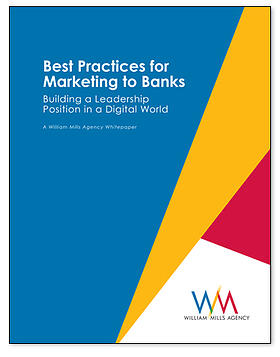 Marketing to financial institutions is more complicated than ever. Today's landscape consists of large financial institutions, regional and community banks and credit unions. There are different tactics for selling to banks of different sizes, but there are also common best practices.
In this white paper you will find the seven best practices for reaching your target audience in today's digital world. The financial services' market requires a strategy for creating a leadership position if you are to be successful.
Seven Best Practices for Marketing to Banks
Establish a Unique Market Position
Use Public Relations as a Foundation
Develop Comprehensive Content Marketing Program
Invest in Marketing Automation Solutions
Build and Maintain Industry Partnerships
Build Relationships with Analysts and Consultants
Be Visible — Participate in Speaking Engagements and In-Person Events